Area Schools
Jefferson Central School District
Nestled in the northern part of the Delaware River Valley is the rustic town of Jefferson, a predominately agrarian. At the heart of this town pulses the Jefferson Central School, a centralized district that serves four neighboring communities as well. The School District serves the educational needs of approximately 250 students in a single K – 12 building. Although it serves a relatively small student population, the Jefferson Central School District covers a large geographic area of approximately 100 square miles. The district is situated on the northwestern edge of the Catskill Mountains about 15 miles north of Stamford, NY.
The region provides a wonderful area for all kinds of year-round outdoor activities such as hiking, biking, cross country ski trails, hunting, fishing, and wildlife. The town of Oneonta is around a 30-minute drive from Jefferson and is the location of SUNY Oneonta and Hartwick College. Albany, New York is about an hour away and Binghamton is about 1 ½-hour drive from Jefferson Interstate 88.
School Mission
All who enter will be educated to their fullest potential in a safe and healthy environment that allows and encourages each individual to develop the necessary skills to be productive and successful members of society.
Overall Performance
According to StartClass, a technology company delivering statistical data and ranking on US schools, Jefferson Central School receives a rating of 6, which is slightly above the average rating for combination schools in New York. StartClass evaluated 5,014 schools in New York on several factors including college entrance exam scores, state assessment scores, and class size to determine a Smart Rating for each.
12% of students at Jefferson Central School (SKCS) took an SAT or ACT exam, whereas the median across all reported Combination Schools in New York is only 7%. Compared to the median of all reported combination schools in the nation (8%), the enrollment rate at SKCS is higher than average.
Size & Student/Teacher Ratio
The average number of students for combination schools in New York is 247, so Jefferson Central School is average-sized. The student to teacher ratio is 8:1, which is slightly lower than the average for all US combination schools (15.6).
Course Offerings Overview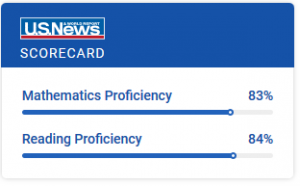 At Jefferson Central School, academic goals are data driven. The teaching staff establish high expectations for each student and then help them to achieve them.
In addition to the required educational courses, English and Language Arts, History, Mathematics and Science, the school's academic focus features a variety of classes in a Visual Arts, Music, Language, Performing Arts, Environmental, Service Learning and Career and Tech (vocational courses).
The school provides several additional learning resources, including tutoring, remediation, career and college counseling, and differentiated learning programs. Students with disabilities are supported with specialized programs for specific types of special education. And college preparation resources are available for students interested in pursuing higher degrees. The school also offers an early childhood program for children 4 years old.
Learning for Life – Educational Offerings in Depth
Administrators in Jefferson understand they have the unique advantage of having grades K-12 under a single roof, which allows them to follow student progress from beginning to end. "Our ultimate goal," they say, "is for everyone to have a terminal diploma, . . .which may be GED or Regents," and "Success has to be measured in terms of how well we prepare students for what's next, after schooling." Thus, besides insuring a wide range of academic and trade school opportunities and support, they deem enrichment and character-building experiences equally important. Going on cultural field trips, working on building projects, or participating in student political action committees are among the many offerings helping students to achieve these goals. Character building is further enhanced by having older students supervise afterschool elementary activities, and high school Honor Society students tutor middle-school students. A walk towards the elementary wing further reflects lessons in community action as one looks out at a greenhouse built by the high school Agricultural Club and utilized by all.
Many resources exist both within and without the school structure. Having two SUNY campuses (SUNY Delhi and SUNY Oneonta) as well as a private college (Hartwick) all within a half hour's drive opens doors for students to take on-line courses, receive early college credits, and participate in workshops and field trips. Teachers also benefit. The district's BOCES offers student tech classes and teacher conferencing. The high school also partners with another BOCES' distance learning program to provide students a more diverse course selection that caters to specific needs and interests. The district brings in local artists and community "experts" to enhance enrichment programs as well. The school also uses its staffs' talents to best benefit students. Thus, a sixth-grade teacher also teaches a high school agricultural class, which allows a third science credit; an elementary art teacher offers a high school ceramics class; and other schedules are adjusted as need or desire arises. Extensive grant writing by administrators and staff alike allows for ever-evolving classes, programs and field trip opportunities.
Athletics
Sports play an important role at the school and in the community. The school's athletic program is well-regarded and regularly features at the top of the region's results roster. The Jefferson Central School offers a variety of team sports, known collectively as the Rams, at various levels. The various sports include girl's and boy's soccer at both modified and varsity levels, boys basketball at junior varsity and varsity levels, girls basketball at junior varsity and varsity levels, boys varsity baseball, girls varsity softball, girls varsity volleyball, boys varsity wrestling, and varsity track and field for both boys and girls. Additionally, there is Little League/Pee-Wee Baseball and Soccer and Travel Soccer for Elementary School children.